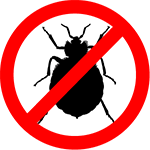 Cost-effective treatments with no need to throw things away or prep location in advance of treatment.
Our Gold standard guarantee for added peace of mind
Access to educational resources to help travelers avoid bed bugs.
Passive Monitoring technologies to assist with early detection and resolution of infestations.
World-leading green treatment solution for fast and safe eradication.
Off-Site decontamination of possessions, luggage and/or belongings to reduce unnecessary waste.
Access to newsletters and useful information to help you avoid or deal with bed bugs
Advanced Educational resources including access to trial data and independent product testing reports
Consulting services for pest control organisations, legal and corporate clients.
Passive Monitors For Early Detection
As pioneers in bedbug eradication and detection we have been using Passive Monitors at the core of our business since 2009. Whether deployed as part of a ProActive monitoring solution in a commercial setting or used in a domestic setting in conjunction with the treatment they have proven their value time after time. To assist people in using this powerful tool for bedbugs we have written a specific information portal including how you can use Passive Monitors to deal with the infestation in a matter of hours without the use of chemicals. "Help protect your friends and family from a bedbug nightmare by getting ProActive and incorporating early detection into your monthly routines".
CLICK HERE TO FIND OUT MORE
Panicked or Confused About Bed Bugs?
Given the number of panicked and anxious phone calls we receive from people worried about bed bugs, we are probably one of the few companies who can say "take a deep breath and don't worry it's rarely as bad as it seems".
Over the years, we have successfully helped tens of thousands of people deal with bed bug issues and have developed an education and science focused approach that can really help.
If you want to read in more detail and fully understand the way that we work please take the time to read through the educational section before reading about the domestic or commercial services we offer.
CLICK HERE TO LEARN MORE
We are increasingly called in to resolve issues which have been previously treated using either other companies or chemical based home treatment products. if you have previously used any products it is important to let us know in advance of ‍‍‍arrival on site so this can be factored into your treatment process. Our technicians understand how these various treatments and processes can effect bed bugs as well as how to overcome the issues they cause but we do need to know about them. Cases, where disclosure has not occurred, will result in an assessment fee being charged and a delay in starting the work until the case details have been submitted and reviewed. We would also encourage people not to repeat treatments if they are not working as it can make the treatment process a lot more complex.