Bed Bugs Limited started as a public education site hoping to help "spread the word and not the bedbugs".
As such we are regularly contacted by the media to give comment or input into bedbug stories which we are always willing to do as long as its fact-based rather than alarmist and sensational.
If you are working in the media and need assistance with a feature please contact us we have stock footage and images to help you get the important messages out there.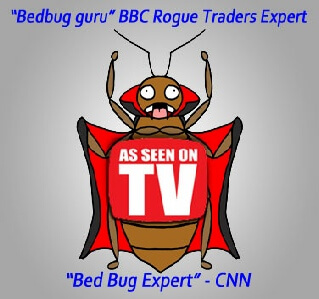 Youtube Archive
One of our first appearances on national TV was in 2007 when the BBC asked me to come into the study to comment about a bedbug case in London where a Hotel guest was exposed an inadvertently took the problem back to their NY home where the problem took months to resolve.
I have been a guest on the breakfast couch a number of times and although its hardly the subject people want to hear while sitting up in bed with their morning coffee and toast bedbug awareness is an essential part of the companies philosophy and something that makes us truly unique.
Later in 2007 data started to become available to show the increase in calls about bedbugs made to pest controllers.  In 2008 we extended the freedom of information request survey to most of the UK in order to establish an infestation map showing all the major cities.
The associated costing the earth radio 4 program was the first UK mention of bedbugs on public transport which is now widely acknowledged around the world as a potential issue in how people get bedbugs.
Based on an interview for BBC radio Derby we were able to put together this annotated clip which shows you the key signs to look for in your home as well as when you travel.
There was no rehearsal or preparation for this interview which we feel turned out very well in terms of providing this educational resource.
In 2010 we were asked to be the experts for a Rogue Traders expose for a company treating for bed bugs.  While the sums of money involved were not massive the main concern was for the health and safety of how they were working.  As you can see from the video they were right to be concerned.
Shortly after the show aired the pest control company changed their name and carried on as usual.
Please be careful when it comes to your health and your families.  Always make sure you fully understand the health and safety of what is be done in your home and check online with companies house to make sure the company you are calling are a real one.
Public Education Material
We have always said that education plans a critical role in helping to manage the global nature of the bedbug problem.
This is a simple and yet extremely effective procedure for helping you avoid exposure to bedbugs when you travel and is what i do whenever I stay away from home.  The reality is that any infestation in a room that is severe enough that it represents a real risk of you taking it home is actually easy to detect within a few minutes.
Because of our scientific interest in bedbugs we are often asked to take specific footage or images.  In the case of this feeding footage we felt it would make a great educational clip to show people how the appearance of bedbugs can change as they feed.
We had hoped that the humour and important message would help this clip go viral but it appears most people don't love bedbugs as much as we do.
Newspapers & Magazine Articles