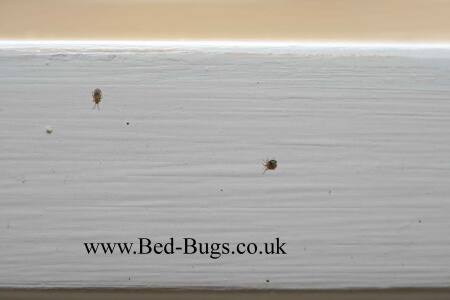 Although we specialise only in bedbugs we occasionally encounter other issues, often when general pest control companies have failed to identify the source of the problem.Sometimes this has been linked tobird miteswhich will ingress into a home due to the lack of their primary host.They are often so small as to be described as walking "full stops" and are most commonly found in clusters at the wall ceiling junction.
They are a complex pest to deal with as access to the birds nesting area is needed and should only be undertaken following a thorough assessment of the whole area.
Please see the key facts below and the linked document which explains the issue in more detail.
Bird mites can seek out humans in the absence of the original bird host.
It is not possible to diagnose the cause of a skin reaction, bite or otherwise.
The risk of bird mites is massively reduced with quality bird exclusion.
They are commonly seem in large numbers rather than 2's – 3's.
The solution often starts where the birds were nesting and works back into your home.
Bird mites do not leave faecal traces like bedbugs.
While we are happy to help people with inquiries with regards bird mites we ask that you are respectfulof the fact that it is not our main focus and not a valid use of our "out of hours service".Calls in evenings and on weekends are never going to be well received unless you have made prior arrangements with the office to consult in those hours.
As much as we hate having to make such a clear and negative statement on our website we do so in the hope of avoiding further calls from people who have no intention of being respectful enough to either read what is available online or appreciate that they are taking up someones time even if they have no intention of paying for it. Sadly over 12 years we have probably had more experience of dealing with rude people than you have had in being rude as such we will simply remind such callers that there is no automatic right to seek our help and that our team have the right to be treated with respect while they are working especially when they are giving up their time to advise you at no cost.